The time has come once again to read One Piece 982 spoilers and discuss what might happen in the upcoming chapter.
Chapter 981 just got released and fans were very excited about the new things that unfolded in the last chapter.
Finally the Whitebeard pirates are here and we have been waiting for them for so long, and now that Izo and Whitebeard are here, we can finally expect the fight to start.
The addition of the whitebeard pirates to the samurai, ninja, pirate alliance will be a big help in the upcoming Luffy vs Kaido battle.
In the last chapter we see Marco the Phoenix and Izo at the waterfall but we didn't get to see any of the other whitebeard pirate members.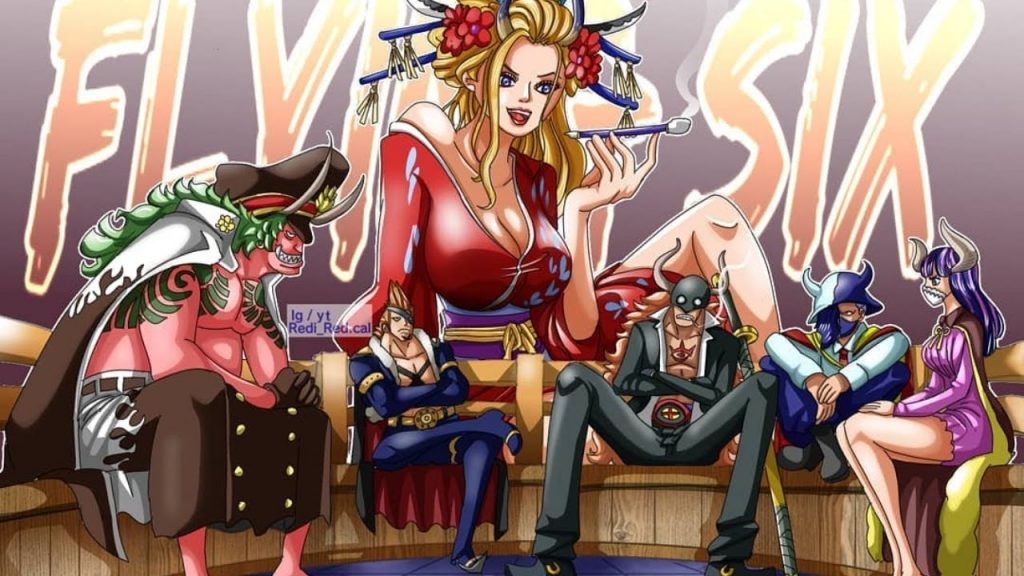 Where are the remaining members? There is only one way to enter Wano and that is through the upstream waterfall and we all know that Big Mom pirates are there, so where is Whitebeard pirates ship?
The last chapter raised many questions in fans mind and we can't wait for the release of the One Piece Chapter 982 spoiler to clear up those questions.
The spoilers usually get released after the raw scans are leaked and then translated to English and that usually takes a few days, so we might have to wait for some time before we get the actual One Piece spoilers for the upcoming chapter.
And as for the release date of the manga Chapter 982 of One Piece, we have good news for you at the bottom of this article, so stay tuned!
Black Clover 254 and My Hero Academia Chapter 275 will be releasing on the same day as our One Piece chapter, so check them out too.
As usual, before we talk about the spoilers, let's do a recap of the last chapter.
One Piece Manga 982 Spoilers Released
One Piece Chapter 981 Recap
Last chapter had a color cover where Sanji is the DJ and all of the strawhats are partying.
Kid punches Apoo in the ground with his Punk gibson attack but Apoo survives the attack and has his face all bloody. Kid is very angry at Apoo that he was was working with Kaido behind the scenes while he was in an alliance with Kid.
The beast pirates have now found out about Kid and Queen is shocked to see Udon escapees at Onigashima. Queen is very angry and even though he has ordered everyone to catch the escapees alive, he then orders them to kill Kid.
Beast pirates charge at Kid with hopes of taking him down and becoming a Flying six member in future. Killer hops in and halts the charge and reveals the secret behind Apoo's attacks.
Apoo's attacks are sound based and can reach any place sound can reach, so Luffy, Zoro, and Kid cover their ears to safeguard themselves from the attack.
For the first time we see one of the infamous number, his name is Haccha and has a very weird laugh.He is as massive as a giant and has started going on a rampage killing even his own teammates.
Kid and Luffy's exploits have caused a ruckus on the Onigashima island and even though most of the beast pirates are aware of the Udon escapees at the island, the news has not reached Kaido or Orochi's ears.
Who's Who notices Kid and Luffy as well but he is more concerned with the task of finding out Yamato. He also talks about taking rid of one of the beast pirate members and we don't know who he is as of yet.
Now that everyone of the beast pirates have arrived at the island, all that's left was Big Mom pirates and even though King pushed them away, they will soon make their way to Onigashima port.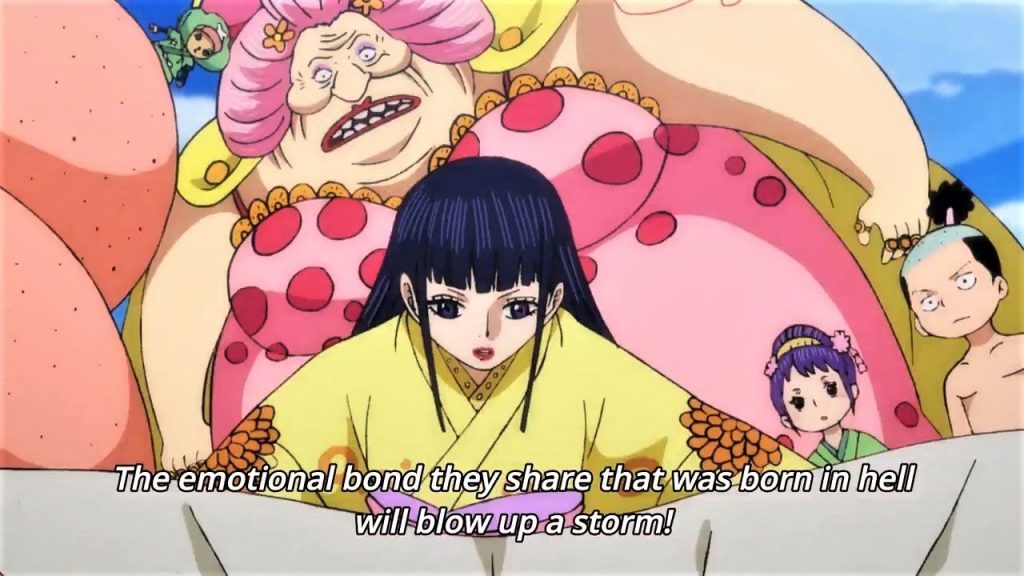 Samurai's have modified their strategy and will be splitting into two teams halfway the mountain. But there seems to be a simple miscalculation in their plan, there is a narrow pathway on the waterfront and it's all in front of a series of brothel in Onigashima.
There is no way Kinemon can sneak all those samurais using that route, those brothel belong to Black Maria of the flying six. Sanji is very excited with the fact of visiting a brothel, but soon his excitement goes away because all of the brothels are empty.
This is a good news and soon Kinemon starts sneaking the Samurai's from one end to another. But while they are moving, the brothel side doors open and it's Big Mom.
Kinemon and the samurai jump into water to not get noticed but Chopper is in the tank and somehow his eyes meet with Big mon and then the scene cuts to the waterfall.
Big Mom pirates are now making their way up the waterfall after Kid pushed them down, while they are coming up they see a flying object and think it's King again but to their surprise its Marco the phoenix.
Marco kicks them down and the last panel shows Izo and Nekomamushi. This is where the chapter ended and now we can't wait for the One Piece Manga 982 spoilers and raw scans release.
Read One Piece 982 Spoilers & Predictions
Looking for spoilers for the upcoming Chapter 982 and having troubles finding it? Maybe you are early and the spoilers have not been released yet.
If you are here before Wednesday then there's a high chance that you are early and no spoilers are available on the web.
So while you wait for the spoilers, let's take a look at the predictions and what might happen in the upcoming Chapter.
The fight has gotten intense even before the real thing has started, even though Luffy, Zoro, and Kid has stormed the banquet palace and a big fight has broken out, somehow Queen and Who's who are paying no heed.
Why are Queen and Who's who not interested? Even Who's who revealed that he is looking forward to taking someone down in the organization, who is this?
Are Queen and Who's who thinking about the same person or is it two people? I don't think Queen is scheming against any of the all-stars, so is it a flying six?
Who will Who's who be going against? Is it an All-stars or is he or she from the flying six itself?
All of it will be revealed in the upcoming One Piece 982 spoilers and we can't wait to read it when it gets released.
Big Mom has noticed Chopper now, their eyes met and this time Big Mom is under no concussion or anything and I am sure that she knows who Chopper is.
So what will happen now? Will Big Mom capture Chopper or not notice him as she is under the influence or something.
Marco and Izo's arrival at Onigashima will boost everyone's morale for sure and we expect the fight to start every soon.
When will One Piece Chapter 982 Raw Scans Release?
Raw scans are very important when it comes to spoilers, as once only when the raw scans get translated the spoilers get released.
The One Piece raw scans usually get leaked by Wednesday and the translation process takes around one day or so only. You can expect the Manga Chapter 982 raw scans to be released on 10th June 2020.
It first appears on One Piece subreddit, so make sure to check them out for all the updated news.
One Piece Manga 982 Release Date Announced
Good news everyone, finally we have a chapter without any break. One Piece 982 will be official released this Sunday on 14th June 2020.
We don't know much about the Chapter 983, but for now let's wait for all the new information we will be getting to read in the upcoming chapter and we can't wait for it to be released.
What is the official One Piece 982 release date?
Chapter will be officially released on 14th June 2020.
Where can we read the upcoming One Piece Manga Chapter 982?
You can read it officially on Viz and mangaplus website. You can download Shonen jump app on your smartphone to read as well.
Who will Queen fight?
It's not clear yet but we expect it to be X-Drake as he is a marine and a part of Sword organisation.
So this was our article on the upcoming One Piece Manga Chapter 982 spoilers and raw scans and we will keep you updated with all the latest news.
In anime news, One Piece Episode 930 is still delayed, same as Black Clover Episode 133. We will keep you updated regarding them as well.