Jinbei has finally arrived at Wano and now we can't wait to read One Piece 977 spoilers and the raw scans for the upcoming One Piece Manga Chapter 977.
Those who don't want to read any spoilers before the release of the official chapter, I ask you to please click away from this article and close this page on your browser so that the upcoming chapter doesnt get spoiled for you.
We try to add a spoiler alert at every article's top so that fans who don't like reading One Piece spoilers can click away and wait for the release of the official chapter.
So it looks like the raid is finally starting and everyone is assembling at the decided port, still some powerful figures like Whitebeard remnants are missing, when will they arrive?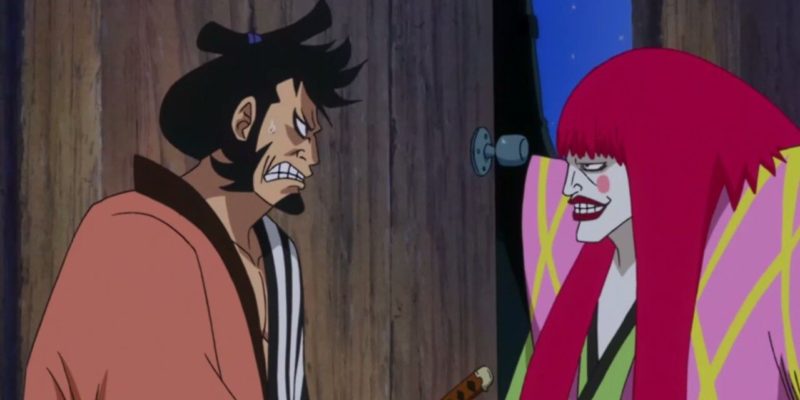 All your questions will be answered below and with the arrival of the former warlord Jinbei, the strawhat alliance has gotten even stronger and once Marco and his team joins, the chances of Luffy taking Kaido's head will increase by tenfolds.
We have shared a theory on the Luffy vs Kaido battle, so make sure to check that out and we will be bringing Luffy vs Blackbeard theory article soon.
One Piece anime is going strong as well and in the anime wano arc has just started, if you want to watch the ongoing One Piece anime you should check our list of sites to watch anime online free.
The One Piece Manga Chapter 977 will be released soon and we are here with the spoilers and raw scan details for the upcoming chapter.
Make sure to check our articles on Kimetsu no Yaiba 202 and Haikyuu 390 articles as they will be releasing soon as well.
So before we move on to the spoilers part, let's do a quick recap of the last chapter first.
One Piece 977 Spoilers Released Online
So the spoilers for the upcoming One Piece Manga Chapter 977 finally released online and fans can't wait to read what happens next.
It seems like Kaido has a son and wants him to meet linlin and the chapter is titled "the party is over". The flying six have arrived at Onigashima as well.
You can read more of the spoilers from this link here.
One Piece 976 recap and summary
One Piece Manga 976 started with Kawamatsu and the rest asking Kinemon if he really knew the truth behind the tokage port, to which Kinemon replied that he was just lucky.
Everyone is amped up about the fight and that is when Kanjuro tries to run away with Momonosuke but Kawamatsu charges at him with a sword.
Kanjuro quickly draws a majestic bird and starts flying. Luffy is confused as to where Kanjuro is going with Momo to which Sanji asks Robin if Kanjuro is the traitor to which she says yes.
Chopper tells Luffy that Kanjuro is the spy, Sanji tries to follow Kanjuro with his sky walk but Kanjuro stops him midway by forming clouds using his hairs.
Kanjuro is showing many abilities he has previously not and is turning out to be quite a powerful samurai.
Momo is crying and asking everyone to calm down and defeat Kaido and Orochi, he will try to escape on his own.
The beast pirate ships are attacking vigorously and it looks like Kid's and Law's crew members have arrived.
The beast pirates ships seem to go back only to use their long distance canoons. Everyone is in trouble now as the beast pirates can fire from a long distance without getting harmed and that is when a new entity shows up.
Suddenly there is a hole in the beast pirates ships and everyone is confused as to what just happened and that is when Jinbei shows up and introduces himself as one of the straw hat pirates.
Jinbei's bounty is shown to be 438 million berry, much lesser than Gol D. Roger bounty but it's still great seeing he is just an ex-warlord right now.
This is where Chapter 976 ended and now fans can't wait to read One Piece 977 raw scans and spoilers.
One Piece 977 Spoilers & Predictions
The official spoilers will be released on 9th April, and will be posted here once they get released.
We are sharing fan predictions and theories as of now because the official One Piece Manga Chapter 977 has not been released yet.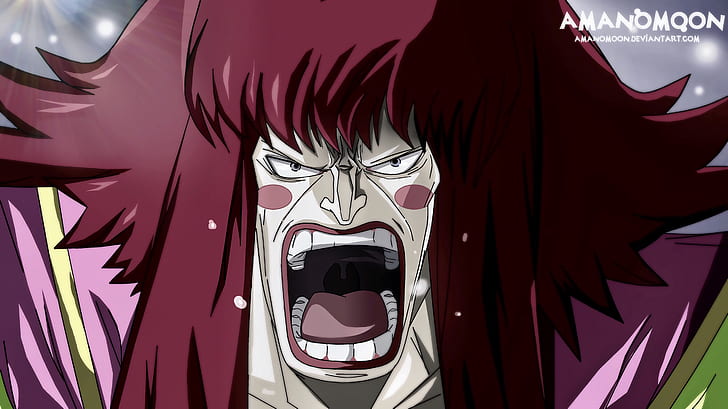 We expect the beast pirate ships to be destroyed in the next chapter, but some of them will be able to escape. Kanjuro will arrive at Onigashima with Momo and we will see Orochi's terrified face once again.
Kaido has a question that he wants to ask and I beleive that he will ask Momo that question. So what is that question? Is it about Oden?
I beleive Kaido respected Oden a great deal and wants to ask Momo why would anyone do that for the sake of their crew.
We might get to see a human side of Kaido in the upcoming chapters. Orocho will try to execute Momo but upon Kaniuro's advice he will stop and decide to use him against Kinemon and the rest scabbards to strike a deal or ask them to surrender.
Now that Kid and Law have met up with their crew, the raid will be starting and everyone will start moving towards Onigashima.
Even though they have defeated the beast pirates ships, more will be sent and it will turn into the greatest naval war ever in the history of One Piece.
Now that Jinbei has arrived, where is Marco? When will he join? There are still some questions unanswered and we might get the answers to all of them in the upcoming One Piece 977 spoilers.
Where to read One Piece Manga 977 Raw Scans In English?
The One Piece raw scans usually get released by Thursday every week but since Mangastream has stopped scanlations, very few new teams are working to translate the new chapter and it takes more and more time every week.
The One Piece Manga Chapter 977 raw scans are available in English translation by Friday evening every week and they will be shared here once they get released.
We will be sharing the links to the raw scans so that everyone can read them, or you can join our Subreddit.
As mentioned earlier, the English raw scans will likely be out by 9th April or 10 April. So stay calm and check out our article on Black Clover 247 while you wait.
When will Marco Arrive at Wano?
This is a question going on in everyone's mind. Even though Jinbei has arrived, the whitebeard remnants are nowhere to be found.
The addition of Marco and his team to the allied forces will increase Luffy's winning chances by multifolds.
Marco is the best to go against King and will prove a great ally in the future for sure.
Even though we have not heard anything about Marco's arrival as of yet, Jinbei might have some news. He might have met them while he was coming to Wano.
Since Jinbei came swimming, he was much faster and left the Whitebeard remnants behind and they will be joining soon.
Is the next One Piece chapter going to be on a break?
Since the One Piece Manga 977 was not on break this week, we expect the upcoming One Piece 978 to be on a break because Oda seems to be taking a break after every two chapters these days.
Then there's the threat of Corona virus as well, since every country is in lockdown, it's the same for Japan, so some of the manga authors might be on break next week.
Some major publications like Black Clover and Haikyuu might be on break next week as well. So stay tuned for all the latest information.
What is the official One Piece 977 release date?
The chapter will be officially released on 12th April 2020.
Where can we read the upcoming One Piece Manga Chapter 977?
The chapter will be available to read on Viz and Mangaplus website.
Will Marco arrive in the next chapter?
There seems to be no information regarding that, so checkout the chapter once it gets released to find the answer.
Stay tuned for all the upcoming One Piece manga news and make sure to comment what you think will happen in the upcoming chapter down below and check out our Darwin's game season 2 article. Stay Safe!