One Piece Manga 982 spoilers have finally been announced and now we finally know what will be happening in the upcoming chapter of the One Piece manga.
Thanks to Shonen Jump and Oda, there was no break this week for One Piece 982 and that is why we are getting the official chapter this week itself.
No break meant the spoilers releasing early as well and that is why today we have all the spoilers for the upcoming One Piece Chapter.
In the last chapter we saw that Marco had arrived, Nekomamushi had arrived, and we even saw Izo. The pirate-ninja alliance is now even stronger, with the help of the Whitebeard remnant pirates, Luffy and Kinemon will finally have an upper hand in the battle.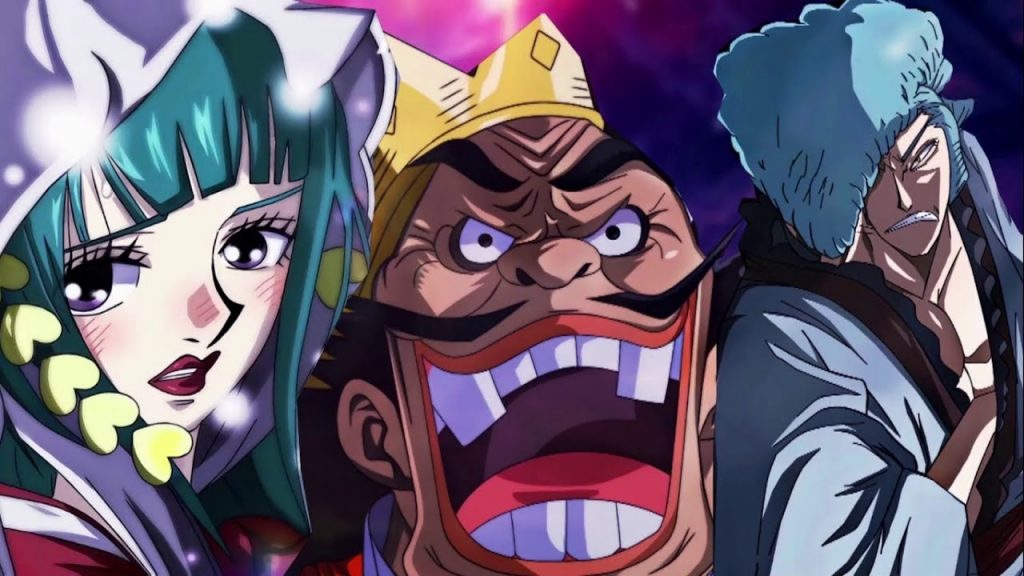 Even though Luffy and Kid have been found out, the news of them arriving at the island have not reached Kaido and Orochi's ears and they are partying without any worry in mind.
All that changes in the upcoming Manga Chapter 982 when the news of the alliance arriving on Onigashima finally reaches Orochi's and Kaido's ears.
So without further delay, let's jump into the One Piece 982 spoilers and also check our articles on Black Clover 254 and My Hero Academia 275 as they will be releasing soon as well.
One Piece Manga 982 Spoilers
So as we mentioned earlier, the One Piece spoilers are available for everyone to read now, the English raw scans are finally available, and here's all the information we got from them.
Kaido and Orochi are partying at the mansion, the flying six have set out to find Yamato but Black Maria stayed behind to party with Kaido.
Orochi is very happy that the ghosts from twenty years ago have been finished and now he doesn't have anything to worry about.
Orochi tells Kaido about Kanjuro and how he has been acting for the last 20 years and Kaido praises him and calls him a big deal and also accepts the fact that maybe the Akazaya eleven might not know anything about Laugh Tale.
Kanjuro finally arrives at the castle, even though many beast pirates tried to stop him in between, he finally made his way.
Kanjuro arrives with Momo and the face of Momonosuke looks swollen as Kanjuro beat him up in order to make him silent.
Kanjuro informs them that he was not able to stop the Red scabbards and they might already be here. That is when Kaido and Orochi are informed that Luffy, Zoro, and Kid were identified on the island.
When Kaido asks why he was not informed about this, he is told that master Queen is taking care of this matter himself.
Now Kaido rests easy but Orochi gets flustered once again and is eager to hear the news of the Samurai's dying.
There is a conversation between Inurashi and Nekomamushi and they further discuss the plans for the battle.
Law and others are making their way through submarine and hopes that Kinemon and Denjiro makes their way to the rear entrance as well.
Marco and Nekomamushi are on the ship and it seems like Marco knows about Onigashima island as he has visited here before. Izo is surprised that Marco decided to come and is happy as well.
While on the south side, Denjiro runs into Sasaki and it seems like the flying six are unaware of Denjiro being a traitor and spy.
Denjiro aka Kyoshiro starts to move away and this is when Sasaki notices the Oden clan tattoo on his back.
To which Sasaki grows suspicious and asks Denjiro what is he planning, Denjiro asks the Samurai's to take care of Sasaki and close his mouth for good.
On the East side, Big mom is chasing Chopper and the others and asks for Strawhat's head.
We also see glimpses of Ulti and Pageone looking for Yamato, Ulti is chasing page on and trying to get a piggyback ride on his back but Page on refuses and suddenly they both stumble in front of Luffy and this is where the chapter ends.
So these are all the spoilers we have for One Piece Manga 982 right now and now we eagerly wait for One Piece 983 to get released.
Let us know what you thought about the spoilers in the comments below and also check our article on One Piece Episode 930.