So the One Piece Manga 974 spoilers have finally been released and the traitor has finally been revealed.
As everyone suspected Kanjuro is the traitor and he finally reveals himself in this chapter and even though rough translations have been released on the web, fans are going nuts over the reveal.
The official One Piece 974 chapter is yet to be released and even though the English raw scans for Chapter 974 has been released, many fans are waiting for the official release so that they can read the chapter in its full glory.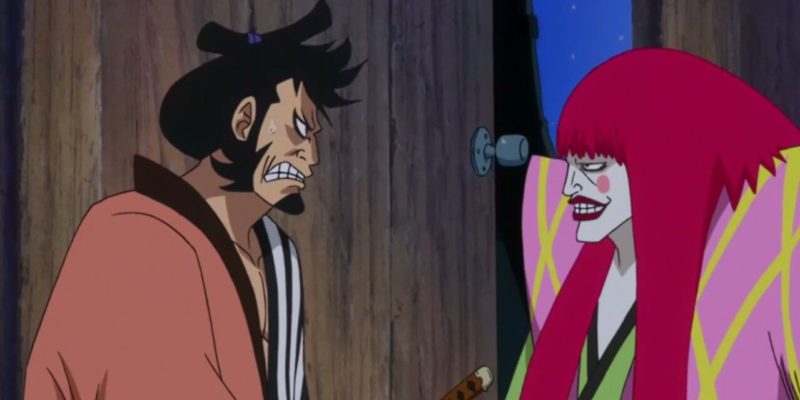 The official One Piece Chapter 974 will be available to read on Viz and Mangaplus and we will be sharing the links to the official chapter as it gets released.
Don't forget to check our articles on the best anime streaming websites and the best sites to read one piece.
So before any further delay, let's hop on to the One Piece 974 spoilers and raw scans.
One Piece 974 Spoilers Finally Released! from r/Strawhatnews
One Piece Manga 974 Spoilers: Kanjuro Is The Traitor
So as the chapter starts, the scene of the port is shown and Kanjuro reveals himself as the traitor. Kinemon is furious and asks his why he did it and how can he be the traitor when he was the one who was going to get boiled together with all the scabbards at the time of Oden's execution as well.
Kanjuro reveals his secret and tells them that it was his way of winning their trust. Kinemon gets furious and cuts Kanjuro in two but it seems like it was Kanjuro's fake or say a drawing of himself.
Orochi and Kanjuro have been working together for several years and he was the one feeding internal information to Orochi. Orochi this time instructed Kanjuro to bring Momo hostage and the chapter shows that he takes Momonosuke hostage somehow and is able to flee.
It is not clear from the One Piece Manga Chapter 974 spoilers that if he managed to escape from there or not with Momonosuke.
There are panels of Kaido and Orochi talking as well and even when Orochi tells him about the scabbards coming to the future, Kaido still thinks that Orochi is acting scared and is delusional.
We get to see Luffy after so many chapters as well and there are more scenes of the Beast pirates in the One Piece upcoming Chapter 974.
This chapter also shows how Orochi met Kanjuro and got him on his side. The One Piece 974 spoilers tell us a lot of things and answers many of our questions and now we can't wait to read the official chapter.
The One Piece 975 will be releasing soon as well and we hope that the raid will be starting soon.
Stay tuned for all our latest updates regarding One Piece and don't forget to check our Luffy vs Kaido theory.