One Piece manga 970 spoilers have been released at last and we finally got to see the fight between Oden and Kaido. The spoiler images were just released on Reddit and we are sharing all of the spoilers and raw scans below for you to read.
We thought that Oda might only show Oden scarring Kaido but to our surprise, Oda showed us the whole fight and we got to see that Oden had the upper hand in the fight but got distracted by Momonosuke's taken hostage.
We had doubts about how strong Oden was and we got the confirmation that he is super strong and going toe to toe against Kaido and even overpowering him at some times is no small task.
The One Piece 970 raw scans and spoilers just got released on Reddit and we are sharing all it said below for you guys to read for yourself. The spoilers are still in the process of getting released and we still have to get the full chapter.
We know that Oden went against Kaido and was overpowering him but the beast pirates took Momonosuke hostage and that distracted Oden and that's when Kaido struck.
Oden was defeated and sent back to prison. Oden will now be executed in three days by getting boiled alive and there's no saving him.
One Piece 970 Spoilers: Oden Vs Kaido
[rl_gallery id="1240″]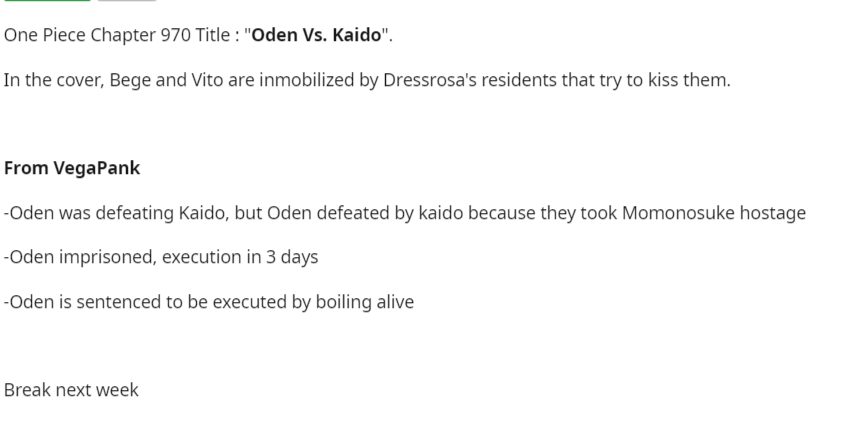 We will be updating the chapter with more spoilers as soon as they get released and till then don't forget to check out our articles on Nanatsu no Taizai 340 and My Hero Academia 259.
We still have to see how the Nine scabbards run away and where they were at the time of Kaido's execution. Oden's death will be a sad one but that laid the foundation of war between Luffy alliance and Kaido that we are going to see soon.
All the One Piece 970 Raw scans have been released and you can check them above. We will be updating this article as soon as we get more news on this chapter. You can read the official One Piece 970 chapter on Viz and Mangaplus.