The fight against Muzan is raging on and only thirty-five minutes remaining till dawn and we can't wait to read Demon Slayer 197 raw and spoilers.
Kimetsu no Yaiba Chapter 197 will show more of Yoriichi past and more on how Nezuko is converting to a human.
Kimetsu no yaiba is quite possibly the most popular shonen manga right now. It has sold around 40 million this year and is looking to break one piece record. While this may or may not happen, lots of interesting stuff is happening in the manga. This has kept the fans on the edge of their seats.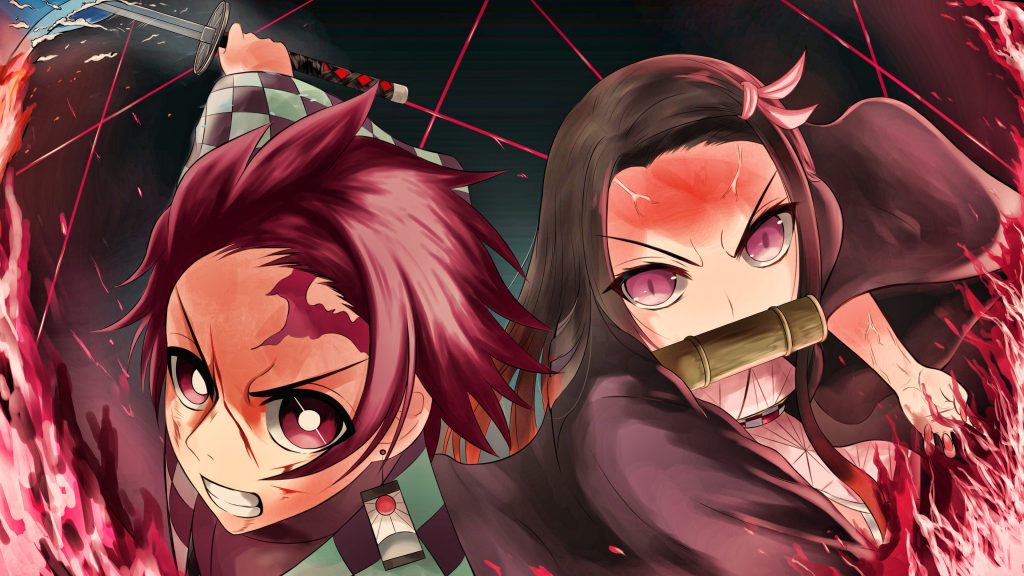 The final fight has been going on for the past few months now and is slowly nearing its end. But we're faced with a new twist every chapter. So today we bring to you Demon slayer chapter 197 spoilers, release date, and raw scans.
One Piece 973 and Attack on Titan 127 will be releasing on the same day as Demon Slayer Manga 197, so make sure to check it out as well.
Demon slayer chapter 196 recap
The chapter begins with Nezuko running in a field. She's slowly losing her demon form now and remembering stuff from her past, her family members and Muzan. She also remembers the things that happened after she turned into a demon and finally she regains her knowledge and intelligence.
Also, there seems to be a reason as to why Muzan attacked the kamado family. Maybe he predicted that one of them might be able to withstand the sunlight. He was right, but he didn't realize that Nezuko could break free from his control.
Now back to the fight, Tanjiro is giving hard time and is single-handedly keeping up with Muzan. Muzan senses that some of the pillars are getting back.
Only thirty-five minutes left to dawn and Muzan is pushed to a corner. So at this point, he decides to divide himself into smaller parts to exit as fast as possible. But he is unable to… there's something hindering his division.
Turns out, he can't split himself because of the medicine Tamayo has. Along with changing him back to human, age progression and self splitting there's one more effect of the drug. And it is revealed that it is the destruction of cells.
Demon Slayer 197 Spoilers Out Soon
One hell of a chapter that was, chapter 196. But Demon Slayer 197 will be even crazier considering the cliffhanger of this chapter. Muzan is getting older very fast and his cells are also degenerating. He never thought he will be on the verge of death but it seems like his time is coming near.
Tamayo's medicine is single-handedly bringing Muzan to his knees. He was bleeding from his mouth. Also, the scars left from Yoiichiro are coming back. And there are only a few minutes left until dawn.
The next chapter will focus on Nezuko. It will also be revealed as to why Muzan attacked the kamado family.
Nezuko is gaining her consciousness back and she's finally turning back into a human. If all else fails Nezuko can definitely help Tanjiro to kill Muzan and finally end all demons.
Kimetsu no Yaiba 197 spoilers will be released soon and we can't wait to read what happens in the upcoming Demon Slayer Chapter 197.
Check out our articles on Black Clover 242 and Haikyuu 385 as they will be releasing on the same day as Kimetsu no Yaiba upcoming Chapter 197.
Kimetsu No Yaiba 197 Raw Scans Release Date
Mangastream has stopped doing Kimetsu no Yaiba scans that is why the raw scans are getting released a little bit late.
Many new scanlation sites are opening up taking the place of Jaiminisbox and Mangastream and we can expect the Demon Slayer Manga Chapter 197 raw scans by 6th March 2020.
What is the official release date of Demon Slayer 197?
Kimetsu no Yaiba Chapter 197 will be officially released on 8th March 2020.
Where can we read Kimetsu no Yaiba Manga 197?
You can read the upcoming chapter on Viz and Mangaplus.
Check out our article on Solo Leveling Manga and Haikyuu Manga. We will be releasing the Demon Slayer spoilers and raw scans as soon as they get released. So Stay tuned!