Finally, the Black Clover 255 spoilers are going to be released and we will get to see if Noelle is finally able to finish Megicula off or not.
The raw scans for the upcoming Chapter 255 of Black Clover manga will be leaked soon and once the English translations are done, the spoilers will be available for everyone to read.
Vanica and Megicula have been haunting the heart kingdom and Lolopechka for so long and just when she thought they have been sealed by Nero, and Lolo's curse will be lifted, the plan goes to ruins and Vanica once again returns more powerful than before.
The dark triad has become a real threat to the Clover and Heart kingdom and if nothing is done soon, the rise of devils from the underground will not only be a possibility anymore.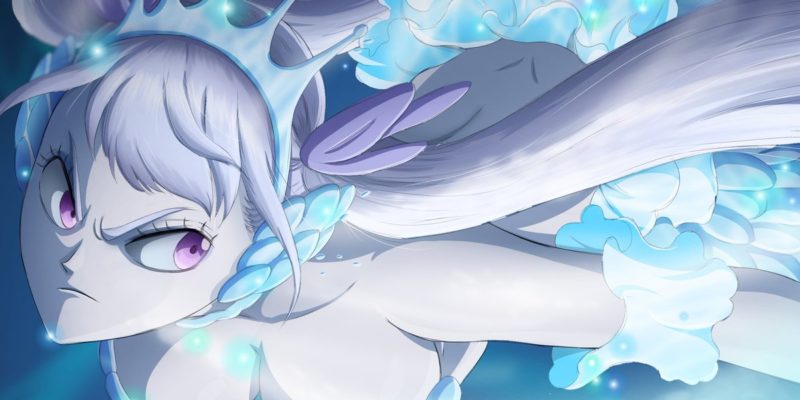 If nothing is done to stop the Dark triad's, devils will smarm the earth and there will not be any place for humans anymore and everyone will be killed.
In Black Clover 254, Noelle and Lolopechka thought that Nero will be able to seal off Vanica, but due to Vanica activating her magic "falling world" the impact of any magic that affects her is reduced and thus the sealing magic didn't take full effect on her.
Megicula appears suddenly and it looks like it's half Vanica and half Megicula. Vanica is not happy that the devil Megicula has appeared and asks to not interfere.
Lolopechka is still cursed and suddenly Undine disappears because Lolo is unable to contain her magic. Vanica know that Lolo doesnt have enough magic power to defy Vanica anymore and decides to finish her and that is when Noelle decides to strike back.
Noelle is bleeding all over but is still determined to land a final strike. Noelle once again uses her Mermaid Valkyrie armor and strikes forward and pierces Vanica's body with her spear.
And this is where the last chapter ended and no one knows what will be the conclusion to this fight. Will Noelle's attack work or just like before, Vanica will be able to escape without any harm?
All will be revealed in the upcoming Black Clover Chapter 255 spoilers and they will be available as soon as the raw scans are out.
One Piece 984 and Haikyuu 399 will be released on the same day as the upcoming Black Clover chapter, so make sure to check them out once you are free.
Read Black Clover 255 Spoilers & Predictions
Every week fans eagerly wait for the spoilers to be released and as usual, this week on Thursday the spoilers will be out for Chapter 255.
The next chapter will feature Yami vs Dante fight and also some parts of Noelle vs Vanica fight. These two have been confirmed and more are still being translated.
All the spoilers will be released here once the raw scans are translated, so stay tuned and meanwhile check some fan speculations and predictions about the upcoming Black Clover Manga Chapter 255.
Many fans believe that since Lolopechka lose undine, Noelle will be using the water spirit now. But some fans believe that Undine+Noelle will mean unbeatabale and Tabata will not allow a combo this perfect.
Some fans even believe that Megicula will now curse Noelle, but even though Lolo is down, she is not dead and is sure to make a return in the upcoming chapter.
We will once again see Lolo+Noelle's tag team and this time Nero will be able to seal Megicula for good.
But what will happen if Noelle and team will and Megicula is dead? What will happen to the plans for the dark triad? Will everyone be safe and it will be the end of the series or something will go wrong and the gate for devils will be opened?
There are so many mysteries that needs to be solved and many questions needs to be answered and that is why we are eagerly waiting to read Black Clover 255 raw scans and spoilers.
Black Clover Chapter 255 Release Date
Many fans are confused about the release date of the upcoming Manga Chapter 255 and that is why we are here to clear things for you.
Even though there was a break for the last chapter, there will be no breaks this week and Black Clover will follow its weekly schedule from now on.
The effects of COVID on the manga and anime industry is fading away and we will get Black Clover Episode 133 soon enough as well.
The official release date for the upcoming Black Clover Manga Chapter 255 is 28th June 2020 and the chapter will be available to read on Viz official website.
More news regarding the spoilers and raw scans will be updated soon and don't forget to read our article on Solo Leveling 111 till then.