Today we are going to discuss the upcoming Black Clover 252 and delve into the possibilities in which the situation will unfurl. As we said earlier, the fans have received a much deserved break from the constant battles.
Before we begin, we would like to offer our condolences to Yuki Tabata, the creator of Black Clover. He has recently lost a close family member. We hope he has ample support in his time of difficulty has got the opportunity to recuperate.
The third battle front has finally gotten more exciting. We see Vanica and we are all wondering, why does she do what she does? What is her real motive?
Is she invading Heart Kingdom for Dark Triad propaganda or is it a simple lust for evil and malice, like Dante? Or maybe it is something related to the devil. Tell us your theories in the comments section and we can discuss this further.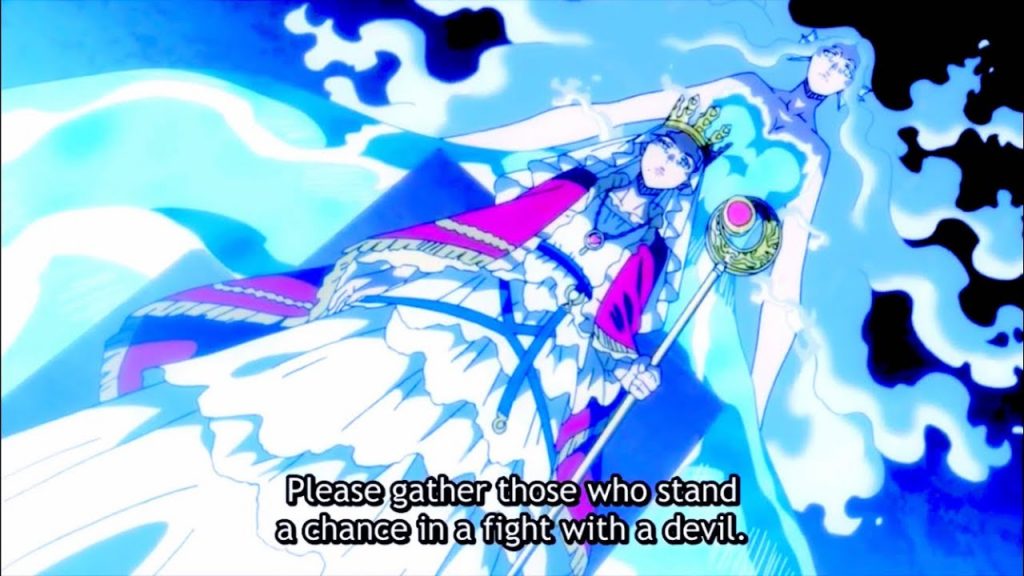 Black Clover Manga Chapter 252 will be an addition to this Spade Kingdom arc. Even though the anime is currently on hiatus, the manga is doing surprisingly well. The Black Clover fandom slowly grows and the sales are quite consistent.
The Spade Kingdom arc has finally moved on to the third pillar of the Dark Triad, that is, Vanica. The battles that will ensue in the near future are bound to be great and we expect a great deal of new revelations.
Chapter 252 will be released on the Shonen Jump website together with One Piece Chapter 981 and My Hero Academia Chapter 273, so make sure you check them out as well.
[Update]- The Chapters are being translated and the spoilers will be available very soon for everyone to read online.
Recap Of The Last Chapter
Black Clover 251: The Curse Devil
The cover art has a beautifully illustrated image of Charmy, posing as popular fairy tail character Red Riding Hood and her mana wolf poses as the wolf in the story.
In Clover Kingdom, Gaja came to the aid of a Spirit Guardian and they defeated a Dark Disciple. His strength is much greater than that of the guardian. With Dark Disciples everywhere being defeated, Heart Kingdom seems safer. But Gaja wants to return to Lolopechka's side.
As everyone rejoices, another disciple makes it to Lolopechka's castle. However, he is defeated by Mimosa, with Plant Creation Magic: Magic Cannon Flower. Mimosa was aided by Lolopechka. This victory is short lived, as Vanica arrives.
Vanica plans to fight Lolopechka for some reason. She attacked the Heart Kingdom, just to make her compelled to battle. Noelle is on guard as the Devil Megicula had cursed her mother. Vanica reveals that her henchmen haven't been defeated.
Due to her command, they all awaken. It is revealed that they will go down, only if she herself is defeated. And they will continue to wreak havoc. All the henchmen reawaken and their respective opponents are forced to battle again. However, their morale isn't down and they welcome the challenge.
The magic knights all over the place get ready just as Lolopechka gets ready to fight, aided by Noelle and Mimosa.
Black Clover 252 Spoilers:
We don't exactly know if it will be Black Clover 252 or some future chapter, but we need to know about the previous altercations between Vanica, Megicula and Lolopechka.
This will make us all more invested in the upcoming fight. Plus it will be a welcome distraction from all the battles that are taking place constantly.
There must be some deep-rooted desire that led Vanica to the Heart Kingdom. Fans are hoping Black Clover Chapter 252 will solely focus on the backstory. It is the proper way to make us all more invested in the characters and in their fight.
Without their stories, they are just two insignificant ones duking it out. Knowing them better will make us care more.
For now, it seems Magna and Zora are sidelined. They're yet to make a canon appearance. We can count on them to arrive when we need them the most. Until then, the battlefield is all to the knights.
Fans are wondering whether all the Spirit Guardians are down. They are the backbone of the Kingdom and it needs them now more than ever.
In the upcoming battle, they must aid the Clover Kingdom Knights and defeat the disciples constantly. On the other hand, it is up to Lolopechka to take down Vanica. We are still unsure of the battle capabilities of either of these women.
The upcoming fight might be fiercer than we expect. At this point, we are also expecting backup from the Clover Kingdom, but whether they will appear in Black Clover Manga 252 is up for debate.
Black Clover Manga 252 Raw Scans:
Black Clover will release its Raw Scans on Wednesday, in this week's Jump Issue and we will provide those to you as soon as possible.
Please keep an eye on our site till they are uploaded. We do our best to get these scans to you. Often we find these scans and leaks on twitter and Reddit, with links leading to Imgur and dropbox.
Remember to visit 'r/BlackCLover' subreddit for a lot of theories and discussions related to Black Clover 252.
Black Clover Chapter 252 Release Date:
Black Clover 252 Raw Scans will be available by May 27, 2020. The scanlators will work on it as soon as it hits the market, where they do the translation, typesetting, redrawing, and proofreading.
The fan-translated versions of the chapter, in French, English, Korean, Spanish and so will drop on May 29, 2020.
The official translated version of Chapter 252 will be available on Viz, Mangaplus, and Shonen Jump app on May 31, 2020. Haikyuu 395 will be released on the same date as well.
Black Clover Details:
Black Clover can be considered to be one of animanga's new Big 3 series, alongside My Hero Academia and the recently completed Kimetsu no Yaiba.
It is written and illustrated by Yuki Tabata and published in Shueisha's Weekly Shonen Jump. It has a strong anime adaptation and stability in sales.
Black Clover is all about a magical world. Our Hero Asta was born without magic but he decided to be the Wizard King.
This absurd dream suddenly moved towards fruition when he was granted the power of Anti-Magic. With new abilities to learn and a huge world to explore, Asta sets out on his journey to fulfill his dream.
Black Clover anime is just as entertaining as the manga but unfortunately there the episodes are not releasing right now because of the ongoing pandemic.
Black Clover Episode 133 has been delayed and so is One Piece Episode 930. We will keep you updated we any new news gets released regarding the anime continuation, so stay tuned!
The Time I Got Reincarnated As A Slime Season 2 and The God Of High School anime adaptation has been announced, so we can expect them to be released soon as well.
Let us know what you think will happen in the upcoming Black Clover Chapter in the comments below and keep visiting us for the latest Black Clover manga news.