Heart kingdom has been attacked and today we will be sharing Black Clover 248 spoilers and Black Clover Manga Chapter 248 raw scans and release date.
We are going to be sharing spoilers down below, so if you don't want to read spoilers for the upcoming chapter make sure to close this page right now.
Dark triad's attack on the Heart Kingdom has started, but Lolopechka is only left to see what really unfolds as she is away from the Kingdom and currently under Vanica's attack.
It's Vanica's henchmen who has attacked the Heart Kingdom and it seems like he has devil's powers as well. With devil powers, everyone in the dark triads is atleast a first stage mage and even have the powers to defeat the spirit guardians.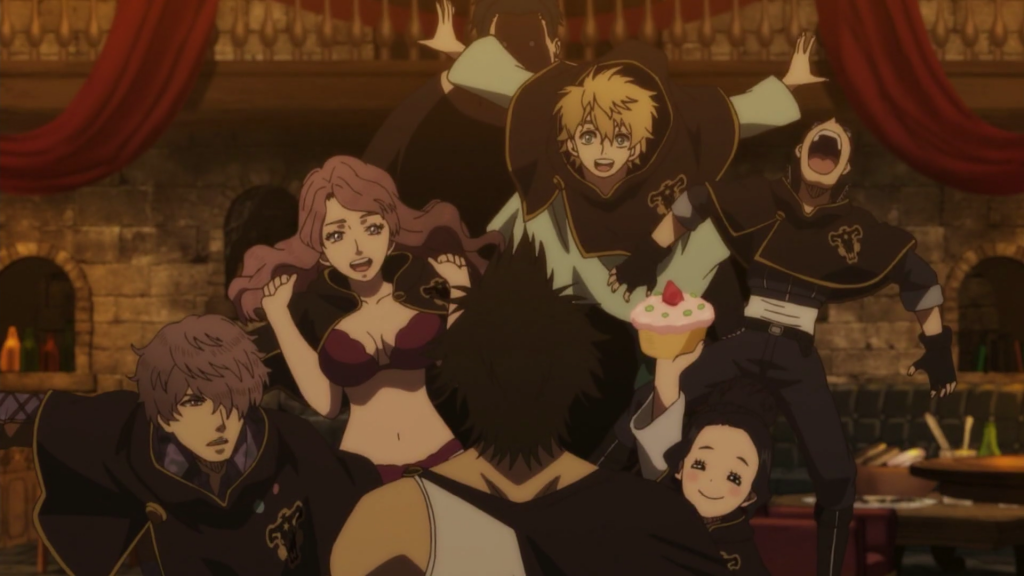 Fans are excited to read what happens in the next chapter, will Luck be able to defeat Vanica's henchmen or will he lose and it will be the end of the Heart Kingdom?
The spoilers for the Black Clover Chapter 248 is going to be released soon and we will be sharing all the English raw scans and spoilers as soon as they get released.
In Black Clover anime, the Heart kingdom arc has started as well and you can check our list of sites to watch anime online free if you are looking for sites to watch the latest Black Clover episodes.
Make sure to check our articles on One Punch Man Season 3 and Solo Leveling 111 while you wait for the Black Clover spoilers.
Before we start with the details of the upcoming Black Clover Manga Chapter 248, let's do a recap of the last chapter first.
Spoilers For Black Clover Manga Chapter 248 Released
The chapter starts with Asta taking Magna and Luck to the Heart Kingdom so that they can learn advanced kinds of magic in order to get strong.
Gadjah is the one who will train him, since he is a spirit guardian we all know how strong he is. Magna is evaluated to have very low level mana and seem to be a stage five mage and this makes Magna disappointed and he leaves the training.
Luck starts his training with Gadjah and aims to learn the True lightning magic. Scene cuts to Luck fighting with Svenkin.
Luck is fast but Svenkin's body is tougher and he seems to be very confident of his body. Luck finally uses his new True lightning magic to finish Svenkin off and that is where the Black Clover 248 spoilers end.
The Black Clover 249 is on break next week because of the Golden week. So everyone stay safe and have fun.
Black Clover Chapter 247 Review
The Black Clover 247 starts with one of Vanica's henchmen by the name of Svenkin attacking the Heart Kingdom.
Lolopechka, Noelle and Mimosa are away from the Heart Kingdom and thus cannot help the Kingdom in need.
Svenkin has defeated the four spirit guardians of the kingdom in an instant and Lolopechka can't believe how strong they are even when they have been granted a very little portion of the devil's power.
Svenkin is a dark disciple with devil's power at 50% and after defeating the guardian spirits, he plans to rampage around all the kingdom.
Lolopechka is worried about the Kingdom, but she cannot go because the team needs to attack Spade kingdom.
Noelle sends Luck to the Heart kingdom as he is the fastest and very strong. Luck arrives and start engaging Svenkin.
Even though Luck uses lightning magic and is very strong, his powers seem to have very little effect on Svenkin because of his skin magic.
He can adjust the toughness of his skin using his magic and is able to block of all Luck's attacks.
Luck is injured and has blood dipping from his head but he is everyone's last hope for the Heart kingdom and that is why he must win.
So what will happen in the upcoming chapter? More to read will be available in the Black Clover Manga 248 spoilers and raw scans.
The spoilers for One Piece 978 and Kimetsu no Yaiba 203 will be releasing soon, so check them out as well.
Black Clover 248 Spoilers & Predictions
Since Vanica is going to be attacking Lolopechka, she has sent one of her henchmen to attack the Heart Kingdom.
The fight has started and unless Luck wins this, the Heart kingdom will perish. All the hopes are riding on Luck and he must come through if they want any chance of winning against the dark triad.
Since Svenkin defeated the spirit guardians very easily it seems like he is stronger that Zeno's henchmen.
All the dark triad members are using very little portion of the devil's power, but still they are super strong. We still have to see what they can do while using 100% of the devil's powers.
Yami is occupied with Dante, Noelle, Mimosa, and Lolopechka are occupied with Vanica and Luck is left alone to take care of Svenkin.
The reinforcements might surely be arriving at the Heart kingdom but Luck needs to take care of the foe in the front of him alone.
The official Black Clover Chapter 248 spoilers have not been released yet, they will be shared once the raw scans have been translated.
So keep an eye on the Black Clover Manga Chapter 248 raw scans release date.
Black Clover Chapter 248 Raw Scans
The raw scans for the upcoming Black Clover Chapter will be released on 24th April 2020. We will be sharing the raw scans as soon as they get translated from Japanese to English.
Since mangastream stopping their scanlations for the Black Clover manga, new scanlation teams have started but still, the translations are getting delayed.
The links to the Black Clover 248 raw scans first gets shared on their subreddit and then gets circulated all over the web and we will be sharing them for you to read here when they get leaked.
Is Black Clover On Break Next Week?
Unfortunately all the major Viz titles are on a break for the next week and that is why Black Clover's new chapter will not get released next week.
There's a week break and then all the titles like One Piece and Black Clover will be releasing like usual.
We have shared the official release date for Black Clover Chapter 248 below for you to check and more information regarding the chapter will be updated soon.
What is the official release date for Black Clover 248?
The chapter will be officially released on 26th April 2020.
Where to read Black Clover Manga Chapter 248?
You can read the upcoming Black Clover chapter on Viz website or Viz app on your smartphone.
Let us know what you think will be happening in the upcoming Black Clover chapter in the comments below and stay tuned for all the latest updates and also check our article on Haikyuu 391.