This article is all about Black Clover 246 spoilers and Black Clover Chapter 246 raw scans and release date.
Yami has finally arrived to save the Black Bulls headquarters and his guild members and the Dante vs Yami fight has started for good.
The dark triads were eagerly waiting for the Arcane stage mage to show up and even though they had bad luck the first time, this time Dante is finally in front of Yami the Arcane stage mage.
It seems like Yami is somehow connected to the underworld and has become the prime target of the Dark triads because of this.
Yami seems to be using dark magic and his dimension slash is made up of dark magic as well. Asta is on the ground, Gauche is injured, Vanessa is out of magic and its the same with Grey and when we thought its the end of the Black Bulls, Yami suddenly appears.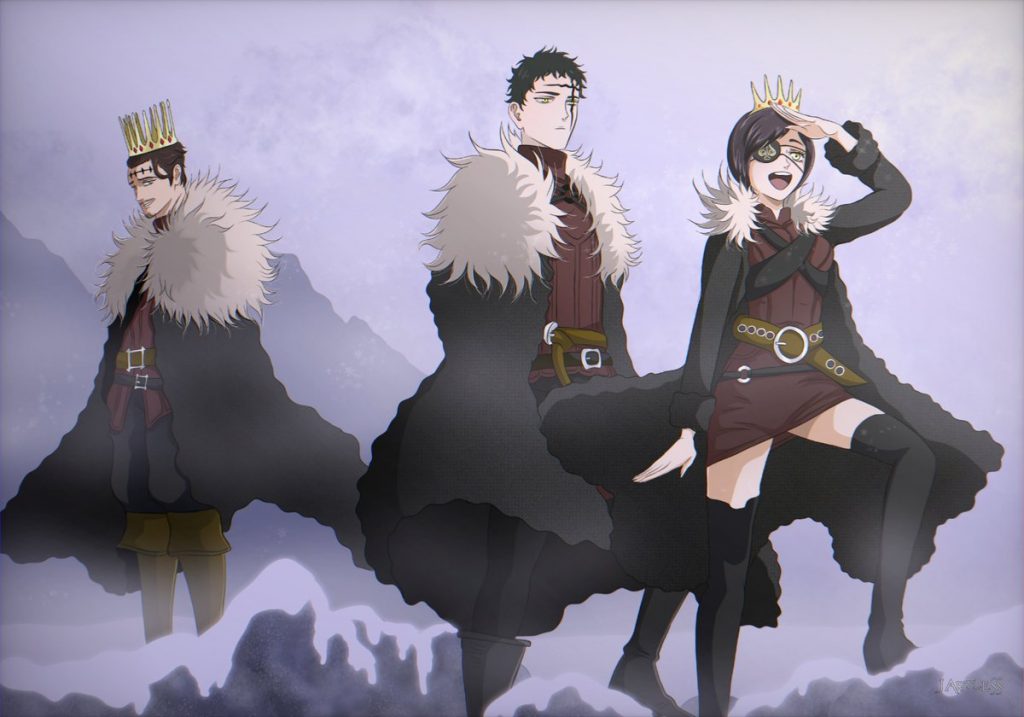 The meetings of Captains are over and that is why Yami is here as we predicted in our last Black Clover 245 chapter article.
As I said earlier, the fight has started and in this article, we will be discussing the spoilers and raw scans of the upcoming Black Clover Chapter.
The Black Clover anime is going on as well and if you are looking for sites to watch Black Clover online, check our list of best anime streaming websites.
Before we move on to the spoilers and raw scans of the upcoming Black Clover Chapter 246, let's do a recap of the last chapter.
Black Clover Chapter 245 Review
The chapter starts with Yami appearing in the sky, Finral teleports him to the base of Black Bulls with his spatial magic and Yami is furious after seeing his guild members on the ground injured.
Dante is happy to see Yami as he is the arcane stage mage the dark triads have been looking for. Dante uses his gravity magic to get Yami to the ground as he doesn't like anyone looking from above him.
Yami comes down because of the immense gravity magic by Dante but is still in control, Yami is furious with rage and now the fight finally starts.
It looks like Yami has been training for the last six months and have learned the Mana zone and Black zone and is now much stronger than before.
Yami attacks with the Black zone but Dante stops the attack and attacks with his rock magic that Yami slashes with his sword.
The fight gets intense and both are using the best and strongest magic forms of theirs. Yami can now easily use the Mana zone and detect Dante's attacks even before he starts the attack.
In the last panel, we see Yami cut Dante with his Mana Zone condense and the Dark Cloaked Iai Slash.
This seems to be the end of Dante but we all know that it's not the case and that is where the last chapter ended and we are left waiting for the Black Clover Manga Chapter 246 spoilers and raw scans.
Black Clover 246 Spoilers & Predictions
The official spoilers are not out yet and will be released on 3rd April 2020. Till then we are sharing some fan predictions and official spoilers from the internet.
Dante has been cut but is the wound fatal? Even if it is we think that Dante is still not using 100% of his power and he can probably heal his wounds.
We might get to see Dante using 100% of his demon powers in the next chapter against Yami as he will not be able to win in his current form.
Will Dante turn into a demon at 100% power? What will happen next?
The answers to all our questions will be available when the Black Clover Chapter 245 spoilers get released.
We think the fight will continue more and even though Dante raises his power level, he will not be able to defeat Yami and must retreat in the upcoming chapter.
Gauche and Asta are injured and even though Grey has closed Gauche's wound, we don't know if he is fully safe. If you have some spoilers to share, comment down below.
Black Clover Chapter 246 Raw Scans
The raw scans are getting released late because of the Corona outbreak and even though the scanlation teams are working day and night to get the chapter translated, it might get a bit delayed.
We will share the Black Clover Chapter 246 raw scans as they get released, so make sure to bookmark this page to get the latest information as they get released.
Similar chapters like Kingdom 637 and My hero Academia 267 will be releasing together with Black Clover 246 spoilers, so make sure to check them out as well.
What is the Black Clover 246 official release date?
The official release date for the Black Clover Manga Chapter 246 is 5th April 2020.
Where can we read the upcoming Black Clover Chapter?
You can read the upcoming chapter on Viz and Mangaplus.
Let us know what you think about the upcoming Black Clover chapter in comments and keep visiting for more on Anime and manga news major names like One Piece and Solo Leveling.